Step 1 : Browse Products
You can purchase non-duty free products and choose delivery options, either: - Pickup at the airport on your international flight departure date. - Home delivery service.
Browse our product, select "Delivery" button and then click "ADD TO CART".
Step 2 : Check Out
Once you have completed your shopping and ready to check out, click "CHECKOUT" on the floating box.
Step 2.1 :
Enter promo code (if any)
Step 2.2 :
click "CHECK OUT NOW" button
Step 3 : Register
Step 3.1 :
In order to complete the checkout process and for security reason. New customer, please click "REGISTER NEW ACCOUNT" button and then fill in the registration form.
Step 3.2 :
Fill in the information then tick "I have read and do accept Privacy Policy" after that click "REGISTER" button.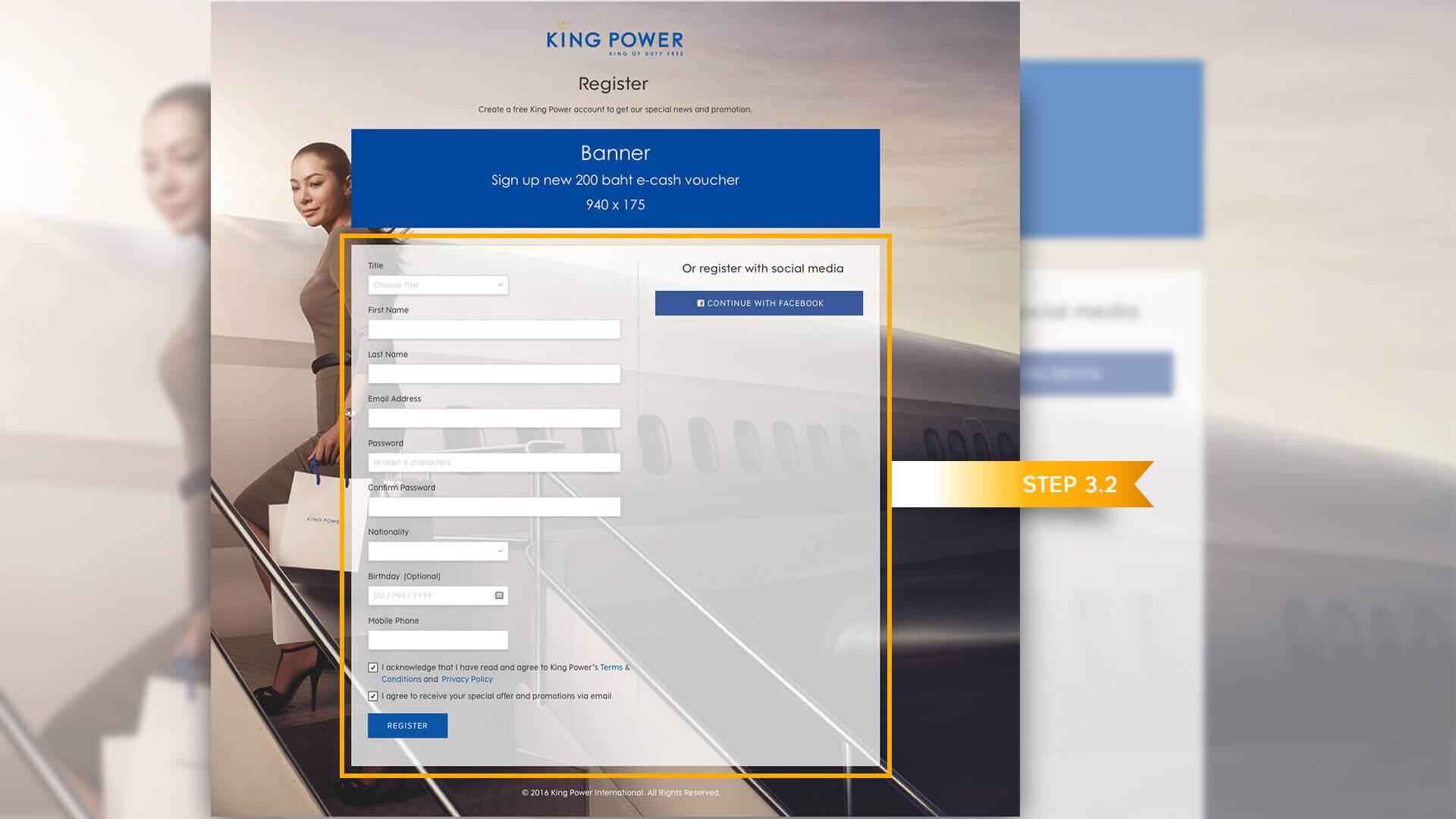 Step 4 : Fill in your shipping address
Step 4.1 :
After the registration has been completed, click cart icon in order to go to cart summary and then click "CONTINUE" button
Step 4.2 :
Fill in your shipping address :
Step 5 : Payment
Step 5.1 :
Pay by Credit card: VISA, MASTER, UNIONPAY, ALIPAY. Click "PLACE YOUR ORDER" button, browser will redirect to payment page
***Please do not close or click back button on your browser while the payment is processing.
Step 5.2 : As soon as this transaction is completed, you will see thank you page.
if you want to request Tax Invoice click "OK" then fill in the form.
if you do not want it, you can skip this process.
Step 6 : Receive Order Confirmation via Email
The order confirmation will be sent after your transaction has been completed. You may log into your account at Kingpower.com to view details of the transaction. Your pickup location will be attached in the email.
Step 7 : Wait for your order to be delivered
Your order will be delivered to the specified address within 1-7 days.
Outside Bangkok Metropolitan areas the minimum delivery fee is 150 THB, if your total payment is less than 499THB.
NOTE : For delivery in some areas such as the three southern provinces in Thailand or islands, delivery time will depend on conditions of each situation.